Ripple says XRP supercharged platform xRapid is live and saving people, companies and banks money in real time.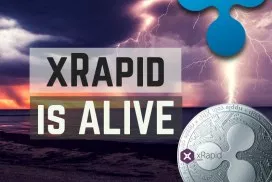 Ripple roll out xRapid for real-time savings
After a lot of means testing Ripple announced the release of its long-awaited payment platform xRapid.
This exciting technology uses the crypto token XRP to settle payments.
Ripple's chief marketing strategist Cory Johnson said xRapid officially entered the final phase of production in the final months of 2018.
The company's real-time payments processing software is geared up to use XRP. 
 To provide on-demand liquidity and speed up cross-border payments.
An announcement by Ripple's chief marketing strategist Cory Johnson -
"We've seen several successful test pilots already, and as we move the product from beta to production later this year, these exchange partners will allow us to provide financial institutions with the comfort and assurance that their payments will move seamlessly between different currencies."
xRapid - Real World Savings
Ripple and its ever-swelling list of partners have been testing xRapid in a series of cross-border pilots schemes that have taken place all over the world.
One single test between US and Mexico showed that financial institutions using the system saved up to 70% on what they would have typically paid foreign brokers.
That figure is equal to at least $12-$21 billion in savings every single year!
Many if not most of these companies have been using Ripple's xCurrent system to test-process transactions.
Clearly, there has been a lot of success is these testing systems globally.
xRapid's ever-expanding Portfolio
10 companies to date have publicly announced test pilots that utilize the platform with three planning to fully implement xRapid.
Companies Testing xRapid
• Cambridge Global Payments
• Western Union
• MoneyGram
• Mercury FX
• Viamericas
• Currencies Direct
• IDT
Companies Currently Using xRapid
• Zip Remit
• SBI Virtual Currencies
• Cuallix
According to Mercury FX its initial test of xRapid showed the "unbelievable" speed of XRP payments. However, Western Union has said that xRapid was "still too expensive" to improve its own business model.
Strategy Changes
In direct response to Western Union's findings, Ripple's senior vice president of product Asheesh Birla announced a change of tack.
He said -
"The thing with Western Union is they're such a massive company that's been around for longer than most payment companies out there. Really, for Western Union to take advantage of xRapid they would have to move all their volume over to something like this because they already have fixed costs and optimized liquidity flows."
He continued
"So right now, we've reoriented our target customer on upstarts, payment providers. That's, I think, our sweet spot, and that's what we're looking to bring into production as soon as possible."

Ripple's XRP about to moon shot?
xRapid Live - What does it mean for Hodlers?!
Well, one thing is for sure once XRP is being used at a rapid rate. Perhaps the next few years once global mass adoption takes a hold
Everytime a transaction completes a little XRP is burned away. This makes XRP ever more scarce a commodity.
What happens to commodities like gold etc when they become scarce?
That is correct - the price goes to the moon…