Cory Johnson exits Ripple? FUD or Real…
Ripple's Cory Johnson has moved on says Coindesk. After just one year as chief market strategist, Ripple apprently made him redundant citing 'Changing Market Conditions'.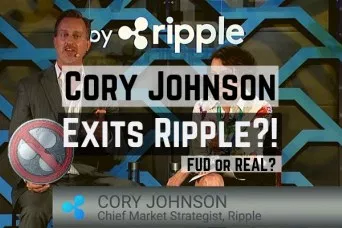 Cory Johnson gone, but why?
The XRP and Ripple communities were today left shocked after Cory Johnson seemingly lost his job. The main body of proof for this is allegedly an announcement from Ripple itself.
The 'Ripple spokesperson' described how the role was no longer tenable citing changing market conditions as the reason.
"Cory's last year at Ripple was a success in representing the company to investors, press and regulators. Cory helped Ripple with strategy internally and overall industry education. But due to changes in market conditions, we've chosen to eliminate the role of Chief Market Strategist."
Tom Channick - Ripple Spokesperson apprently in an exchange with Coindesk
Cory's Ripple exit - A cause for concern?
When I saw the words 'market conditions' I will admit a lump formed in my throat and I got worried. When I also looked back what Cory had said at the World blockchain forum.
It deepened…
"I sat with a bunch of people, a major customer, yesterday and there were 10 people in the room they had a lot of questions,"
He continued…
"But I'll also tell you when there's 10 people in the room theres no deal getting signed. So there's still some exploration happening and I don't know where our customer count is going to be."
Perhaps Ripple are struggling for business? Nah, not a chance!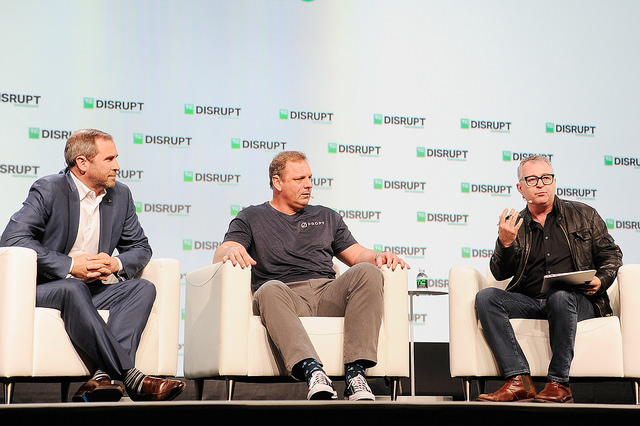 Ripple Over-valued?!
Speaking at the Fintech Festival last year CEO Brad Garlinghouse was very vocal. He said many banks would integrate xRapid into their payment settlements by the end of 2019.
Perhaps the industry goalposts have now moved or maybe Rippel was initially overvalued?! There is no denying Ripple's XRP has dropped 96% of value since its 2017 high of $3.70!
His public relations team felt he was projecting a little higher than reality… Read more
Corys' exit - Ripple's Changing
We think this all just demonstrates the changing Ripple ecosystem. Clearly, Cory did the job he had been brought on broad for, perhaps before the time frame set out initially.
Internally Ripple is today perhaps facing new challenges.
The ripple team recently welcomed a new member to the legal team. Clearly, the promotion and understanding what Ripple does have become secondary. Mission accomplished.
Now the team faces legal issues, regulatory hurdles, and other really fun issues like that. Clearly, there is more need for a legal specialist.
Cory leaves Ripple - Mission Accomplished?
Cory had been drafted in by Ripple to better spread the word and explain Ripple's 'complex' business model. A job he did excellently it has to be said.
So if he left on good terms and Ripple are simply saying his job is done. Then it's all good right?
"The role of Ripple as a company and XRP as a currency in financial markets, to regulators, financial institutions and investors could use more explaining. I'm going to try and explain, listen and set strategies to make it easy for Wall Street and the world of finance to understand what we're doing."
Cory Johnson, speaking of his new role at Ripple back in 2018
The fact that 200+ companies are already on board. Thirteen companies actually using xRapid and making real savings, says to me a market strategist is no longer needed.
And yeah, that's damn good for XRP, Ripple, and investors.
So what next for Cory Johnson?
Before Ripple, Cory worked as a market analyst for Bloomberg news network. He is also an entrepreneur and creator of TheStreet.com website.
We feel here at XCN - Cory was a legend and he will be back with perhaps his own venture in the cryptocurrency world.
One thing we know for sure he holds XRP and he will be HODLING!
Cory Leaves Ripple? Proceed with caution…
This story was reported by Coindesk initially with claims of direct contact with Ripple READ HERE. We can confirm Cory has removed his job role at Ripple from his Twitter page.
Aside from that we just don't know 'fo-sho'.
No official announcement from Ripple itself, we must say this cannot be taken as 100% truth. The Crypto community can run away on the slightest whiff of a Ripple story fart.
We could not reach Cory Johnson or Ripple for a statement.