Ripple XRP - Prepare for Lift-off!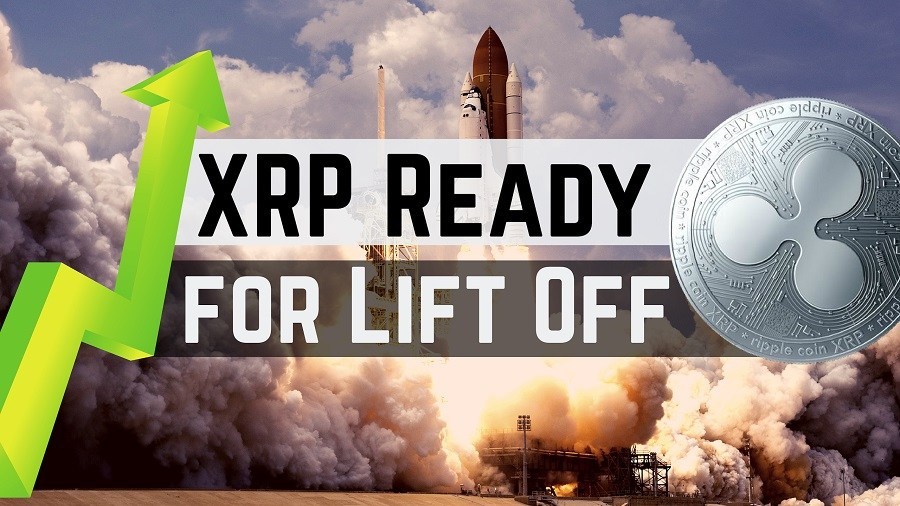 As we predicted a few weeks ago in our last blog, we are experiencing the build-up to a huge bull run & XRP could be right at the top.
XRP Take-off? | Same old BS!!
No! Don't be despondent, if you have already invested in Ripple's XRP Payments token. You already believe in the project, you just need patience.
To understand the stagnant bear market we have been experiencing since the start of 2018. One must first understand financial markets.
With any market bubble, Just like the internet bubble of the nineties. And the crypto bubble which saw XRP at $3.60 and Bitcoin at $20,000 in 2017.
"The stock market is designed to transfer money from the impatient to the patient."
Warren Buffet - Multi-Billionaire
Finding Base Value
The base value for these new commodities must be found and we seem to have hit that level now.
Traders are waiting for rules and regulations to be put into place. Then the worlds financial advisors and stock markets traders enter the space.
The value of all altcoins will grow ridiculously high once we hit this benchmark officially.
It could be next week, it could be next year. The point is, if you have a certain amount of XRP, you are going to be very wealthy pretty soon.
XRP Take-off | 5 Hard Facts
Let's talk about some of the cold hard facts surrounding XRP and Ripple. And why we see a $10 XRP at crypto position 1 by the end of summer 2019.
1 Switzerland's SIX Stock Exchange announced the adding of XRP powered Amun to their stock listings as of 04/02/2019.
Fat stacks in Switzerland, yo…
"We can comfortably say that we expect to release the world's first XRP ETP within the next two months."

Harry Rashwan | Amun (AXRP) AG Co-founder
---
2 World Bank Excited by XRP | The World Bank, who are they?! They fully endorse XRP for international payments that's who.
The WB seriously know their sh&t when it comes to international money. Fat stacks can't remotely describe the level of money they represent.
"I think in the banking system at large in many, many countries, the difference will not be between those who are disrupted and those who survive. The difference will be between those who are cannibalized because they're not seeing it coming, and they're not embracing it, and those who self-induce that cannibalization"
Christine Legard - International Monetary Fund (IMF)
---
3 XENDPAY Running Payments in Thailand |International payments processor will settle transactions using Ripple's XRP Coin.
Also servicing Bangladesh, Malasia
"We know how important it is to be able to keep track of the money you're sending which is why we keep you informed throughout the entire process. We'll confirm once we've received your money when it's been sent to the recipient and we'll let you know as soon as it arrives at its destination"
Xendpay Announcement
---
4 XAGO South Africa | International payments processor Xago is about to use the XRP ledger Via RippleNet too
"The XAGO Gateway provides an entry point into the Ripple Network. We enable customers to transfer assets, both fiat and digital, locally and internationally, using the Ripple Network. XRP is the native digital asset of the XRP ledger and can be freely sent and exchanged among XRP addresses. This makes XRP a convenient bridge currency. XAGO uses the XRP Ledger as a distributed exchange, where users can exchange XRP for ZAR."
Official Xago Statement
---
5 Brad Garlinghouse | Ripple CEO
Last but not least a great interview with Brad Garlinghouse recently where he discusses the future of payments and XRP's role in shaping it.
"In the future, your fridge will order your food by AI. What are you going to do? Embed a credit card into your fridge?!"
XRP Take Off is Imminent.
So why do we get all of this good news and yet the prices never rise?! At the moment we are heading into the biggest bull run the cryptocurrency world has ever seen. Literally trillions will pump directly into the market over the next few years.
How do I know this? Because there are investors called whales who have millions of XRP.
Pumping and Dumping
When the price goes up even by 1 cent, they make a lot of money from it. They sell, take the profit and rebuy and the new lower price because they sold millions. The very same people today did the very same thing with companies like Amazon years ago.
As these pumps and dumps get more and more acute they will eventually give way to the wave of investment from across the planet and the price will rocket upwards.
The next middle classes of the world are on their phone reading this blog right now…
Worth a Mention
Back in the last bull run when XRP reached $3.60 and Bitcoin hit $20,000 it was South Korea that helped drive that huge wave of investment.
Shortly afterward the Korean government made new laws governing the trading of cryptocurrency and we have been in a bear market ever since.
The South Korean government has recently broken its silence and is looking to relax these laws to' help the industry flourish'.
We are not saying that this will drive the next bull run but bear in mind that two-thirds of all crypto and XRP sales come from Kim Jung's new pals.
India too is about to regulate and enter the crypto space - watch this space…