Ripple Partners MoneyGram in $600Bn Remittance Market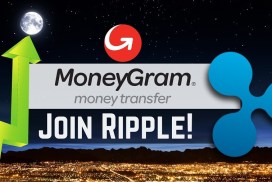 Of all the stupidly exciting news we have been waiting for. Ripple partnering MoneyGram is up there. This will generate a huge amount of value to XRP, sending its price skywards. Let us explain why with price predictions.
MoneyGram & Ripple!
You may feel it is old news by now. But Ripple's new strategic partnership with MoneyGram will take XRP's value to new highs.
MoneyGram needs no introduction they have been around for decades. Servicing the $600 billion global remittance market (international payments to me and you).
This includes MILLIONS of customers across 200 countries. The exact market XRP was designed to serve.
May the Swartz be With You
A higher value of XRP is needed for Ripple to target bigger markets. For example, the biggest prize, SWIFT.
The SWIFT international payments system services a 5 trillion dollar market, every single day.
"Bigger transactions require bigger value, the higher the price of XRP, the larger the payments Ripple can target"
Ripple Chief of Technology - David Schwartz
Once MoneyGram flips the switch on xRapid,  XRP starts to burn at a staggering rate.
because every transaction burns a tiny amount of the cryptocurrency. What becomes scarce increases in value and everyone wants a piece.
Inevitably the price will rise very rapidly.
Using xCurrent or xRapid?!
Everybody knows that for XRP to rise in value. Companies must start using xRapid rather than the test platform, xCurrent.
You will be pleased to know, MoneyGram will be utilizing Ripple's xRapid payments system."As the payments industry evolves and matures, it's imperative that we continue to improve our platform and provide the most effective solution to get funds from point A to point B,"
MoneyGram CEO - Alex Holmes
Once MoneyGram flips the switch on xRapid,  XRP starts to burn at a fast rate. Each transaction burns a tiny bit of the digital token.
What becomes scarce increases in value and everyone wants a piece. Inevitably the price will rise very rapidly.
"Through Ripple's xRapid product, we will have the ability to instantly settle funds from US dollars to destination currencies on a 24/7 basis, which has the potential to revolutionize our operations and dramatically streamline our global liquidity management."
He finished.
New Market Leader
Ripple's xRapid provides on-demand liquidity, reducing the need for pre-funding and keeping fees the lowest of all current altcoins.
This makes the XRP payment system the best choice for cross border payments. It will also likely make MoneyGram a market leader.
"This strategic partnership will enable MoneyGram to greatly improve its operations and enable millions of people around the world to benefit from its improved efficiency."
Ripple CEO - Brad Garlinghouse
Much lower transfer fee's due to the XRP ledger. Will allow MoneyGram to offer a payments service far cheaper than its rivals.
XRP Price Prediction
Nobody really knows how high prices will rise. One thing they can do is take a look at how much money a company transfers.
You can add that increase in value to the price of XRP. Experts say XRP should increase to at least $10 by the end of 2019.
"This is a huge milestone in helping to transform cross-border payments and I look forward to a long-term, very strategic partnership between our companies"
Brad Finished.
When Brad Garlinghouse speaks of their 'Very Strategic' partnership. Is he talking about taking over the SWIFT system?!
Quite possibly, and if that happens. It is safe to say XRP will be a $200+ coin within the next two years.
Christmas Bullrun
Everything is gearing up towards a massive bull run as we head through the summer. On into the Christmas period.
We fully expect XRP to reach $1 and continue to rise before the end of the summer. When Bakkt launches at the end of July.
"Bakkt, the startup cryptocurrency platform affiliate of New York Stock Exchange-owner Intercontinental Exchange Inc, said on Thursday it would begin letting users test two physically-settled bitcoin futures contracts on July 22."
Reuters International News - NEW YORK
This means we enter a multi-trillion dollar cryptocurrency market cap. We fully expect XRP to hit $10 by Christmas.
As do many other experts.
Read the whole story from Ripple Headquarters.