Buy Ripple XRP with Credit/Debit Card
Whilst it is important to say straight away - we do not suggest you buy Ripple XRP with a credit card because debt is bad. We realise many people have balls of steel and love this option. Let us guide you quickly and easily.
Buy Ripple XRP with a Credit Card
So you want to buy XRP with credit card or perhaps on your debit card? There are many folks out there desiring this option and I count myself among them.
There have been a number of stories surrounding credit card companies refusing to allow this method of buying XRP with a credit card.
These companies cite the dangers and the volatility of cryptocurrencies as a reason to ban the ability to buy XRP on a credit card.
We will return to this later and list for you these specific companies who refuse the use of their credit cards to buy XRP, Bitcoin etc.
Add to this issue the fact that many online cryptocurrency exchanges also do not allow you to buy XRP with credit card…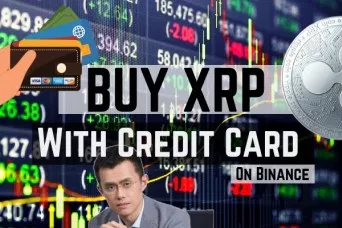 Buy Ripple XRP with  credit card - Exchanges
We have a great list at the bottom of the blog showing all the recommended exchanges. But to save you some time, if you want to use a great exchange right off the bat we suggest Binance.
Buy Ripple XRP with  credit card - Trading Platforms
These exchanges and websites typically make you purchase Bitcoin first and then convert that into XRP coin.
Another downside to this is the partial loss of the Bitcoin you bought. On an exchange some of your Bitcoin taken by said company as a fee. If you, just like me, cannot be bothered with the worry and the stress of using such companies.
Or you simply do not want a company taking your hard earned cash while you try to invest in XRP coin!
So then, what do we suggest when you want to buy Ripple XRP with credit card? Read on…
eToro to buy XRP with Credit Card
Stock market investment platform eToro was founded as RetailFX in 2006 in Tel Aviv, Isreal by two brothers Yoni Assia and Ronen Assia assisted by David Ring.
In 2010 eToro was fully established and their free, easy to use Android app was released.
This new ability to trade easily on a mobile device was revolutionary and in 2014 eToro allowed trading for Bitcoin to its 3 million users.
This time last year eToro made it possible to buy XRP with credit card and debit card.
Simple & Easy guide to buy XRP with credit card
eToro makes it simple to trade in cryptocurrencies, its fee's are relatively low and there is a vibrant XRP chat community.
eToro also makes it relatively quick and easy to sell your investments and have your funds returned to the card of your choice!
It is important to add that, before you go ahead and buy XRP with credit card, make sure you understand that eToro is not a crypto holding wallet.
There has been official talk of eToro offering an XRP coin and crypto coin wallet in the near future.
What you need for ID verification.
This platform is free to sign up to, identity verification is not required until later down the line when you wish to retrieve you riches.
It's vital to note that you must verify who you are via proof of address and identity when you wish to retrieve high-value earnings!
To do this it very simple and eToro have their very own ID scanning program for say a driving license or passport.
For proof of address, you can upload a recent scan of a utility bill or bank statement showing your address clearly.
So get signed up today and start being able to buy XRP with credit card, before ripples coin reaches the crazy market cap of Bitcoin!!
Buy XRP with Credit Card on Changelly.com
Crypto trading platform Changelly is an online crypto exchange where you can easily buy XRP with credit card and debit card.
The key difference with an exchange like Changelly when compared to eToro? That one must first purchase Bitcoin in order to trade as we mentioned at the start.
You also need to open an XRP wallet where you will safely store and manage your XRP coins.
Your XRP wallet is vital so that you -
A. Have somewhere secure to store them after buy XRP with credit card
B. Have somewhere that the XRP coin seller can send them to you!
Buy XRP with Credit Card Anonymously
With Changelly You are not required to add your personal information specifically making it secure and practically 100% anonymous.
Registration on this platform is also free to all you be pleased to hear!
Changelly's website contains a very thorough FAQ section aimed at answering all your queries to buy XRP with credit card.
Many regard the very nature of anonymity when buying cryptocurrencies like XRP or Bitcoin with credit cards and debit cards to be rather ominous.
The potential for criminal use and activity is high so exchanges such as this get a bad press. However, if remaining anonymous is what you require in your non-criminal transactions, perhaps Changelly is for you.
Other Ways to Buy XRP with Credit Card & Debit Card
Credit Companies who will not allow you to buy XRP with credit card
There were a number of stories at the start of 2018 regarding the use of credit cards to trade in cryptocurrency.
I myself have had issues with some and yet have been able to buy XRP with credit card but I have also been refused!
I must name and shame - Capital One had refused me during an attempted eToro transaction.
The ability to buy XRP with credit card is banned for most major international credit card issuers.
They have banned the use of their cards to buy Bitcoin, XRP or any other digital currencies.
Apparently, this is a move intended to lower the financial and legal risks involved in the volatile crypto arena.
The first institutions to halt the buying of XRP with credit or debit cards were Bank of America and JPMorgan according to Bloomberg.
Others to follow suit are Citigroup who says it is halting cryptocurrency purchases on credit. Discover and Capital One have already initiated their own ban.
This equates to the top five credit card issuers to announce or initiate credit bans on XRP and other crypto coins.

Is it a good thing you can't buy XRP with Credit Card?
Tighter crypto coin investment controls, restricting people to buy XRP with credit card could be a good thing.
Surely responsible crypto investment should be the way forward and should be encouraged. After all, credit is not actually an individuals money to essentially bet on the stock market with!
The best interests of the people and their money. This is the reason cited by the major banks and card issuers as to why they have banned crypto.
Deeper than this the banks do make heavy losses along with their customers when credit is used unwisely.
The betting industry costs the banks and its betting customers billions every year.
Buy XRP with Credit Card | Exchanges
Buying from an exchange is usually a simple and easy experience. Most suggest you do not keep your XRP stored on an exchange as they have been known to get hacked.
Finding yourself a suitable hot or cold wallet is necessary when buying from exchanges.
See our guide on best XRP wallets…

You can also buy XRP with Credit Card from Exchanges Similar to Changelly -
FURTHER READING SIMILAR TO BUY XRP WITH CREDIT CARD -
Take a look at our Guide to Buying XRP 
See XRP-3O - the Ripple Robot give you his predictions!
Find out the difference between XRP and Ripple!