Davos 2020 - Ripple, Brad Garlinghouse, President Trump & Christine Lagarde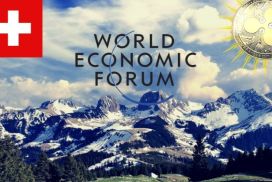 Every January world leaders, financial policymakers, movers and shakers descend on Davos Switzerland for a meeting of minds on the coming year's fiscal policies.
A week from now Davos has the potential to be an interesting meet with Ripple in attendance alongside President Trump and ECB boss Christine Lagarde.
Business leaders and politicians from around the world are gearing up to attend another session of the World Economic Forum (WEF), in Davos, Switzerland next week. This year marks the 50th anniversary of the event in the Swiss Alps and its theme is "Stakeholders for a Cohesive and Sustainable World." The annual economic gathering will run from January 21 until January 24
Ripple's Brad Garlinghouse is set to be interviewed by the Wall St. Journal at the very same event Lagarde is expected to discuss the Euro's digital tokenization.
Add to that President Trump's trade deal/war with China appears to be coming to a close, alongside the imminent release of its own digital currency token.
First, Trump and the likelihood of a complete Chinese trade deal being after Sec. Mnuchin said the country had been removed from the list of currency manipulators list.
China's own development of a digital currency, potentially backed by vast Gold hordes is said to be ready to roll out any day now and could circumvent US sanctions.
As part of the trade deal that Mr. Trump plans to sign at the White House on Wednesday, China and the United States have agreed to avoid devaluing their currencies to achieve a competitive advantage for their exports. The Office of the United States Trade Representative said last month that the agreement would include a currency chapter that detailed "high-standard commitments to refrain from competitive devaluations" and targeting of exchange rates
Rather than have egg on the face, the Trump administration could announce a change to the dollar as the global standard, replacing it with something decentralized like XRP.
But that is simply wild speculation on our behalf, one thing is certain, if the current administration doesn't act fast, the dollar will be replaced anyway as rivals hold far more gold.
When the next financial downturn/reset happens, some say it is only weeks away, the biggest holders of gold and those who embrace digital assets will emerge victorious. 
Also at this years Davos event, European Central Bank head, Christine Lagarde is due to announce and set this year's monetary policy for the European Union.
Lagarde has long been a huge advocate for CBDC's and Ripple's XRP, she has also has said she wishes to see progress on the Euro going digital before the end of the year.
Lagarde, the first female president of the ECB, used to visit the event in her role as managing director of the International Monetary Fund. This time around Christine Lagarde's words in Davos will be even more closely monitored, as investors look for further clues about the central bank's strategic review. Lagarde made headlines in late 2019 when stating she wanted the ECB to make climate change a priority.
A major topic at WEF will be the focus on greener technologies like, as Michael Bloomberg discusses below, sustainable finance can unlock trillions tied up Nostro accounts.
Interestingly this is what Ripple means when discussing XRP, it is super green on energy use and it was designed to dissolve the need for Nostro Vostro accounts entirely.
We imagine a lively private debate between Greta Thunberg who also in attendance, Lagarde and Brad Garlinghouse with the only sustainable digital asset available, XRP.
Finally, Ripple CEO Brad Garlinghouse will also attend the event with a live interview from Wall St Journal in the same place as Lagarde makes her announcement. 
Also consider Ripple was the only digital asset company to get an invite, for Brad just another reunion with the high profile elites he has been hanging with for years now.
Both Lagarde's announcement and Brad's interview happen on the same day, January 23rd, likely mere coincidence but enough to spark anyone's intrigue. 
As always we are not financial advisors, nor is this financial advice, DYOR  everything above is factual with references and as XRP investors we are hopeful for big news.
There is no guarantee XRP will get a mention publically at this event, with the result of Ripple's case finalized tomorrow, things could start to get rather bullish rather quick.