Samsung enters Crypto Space…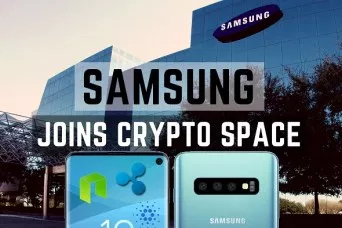 Tech Giants Samsung to enter crypto
Samsung is joining the fold when it comes to crypto. Their next offering the Galaxy S10 is said to have an integrated wallet for storing cryptocurrencies.
In just a few weeks their brand new smartphone is unveiled. Adding a crypto wallet would secure the firm as the biggest to integrate such technology.
"The arrival of the new Samsung phones could start popularization of the cryptocurrency wallet system in Korea"
Sadly for Samsung however, this move would not make them the first to do this.
Samsung cryptocurrency wallet - not the first
Mobile payment service Syrup by SK Planet in South Korea have already beat them to it. They have already introduced a wallet system for their mobile platforms.
A sister company to SK Telecom, they are the first, but we feel a domino effect is now in motion.
Crypto mass adoption Chapter 1?
For crypto to really take off it needs global mass adoption. As with the internet, the point is exponential growth and use.
A cold wallet holding crypto securely on your phone could kickstart this coming revolution.
Samsung crypto wallets - Who said?
This exciting development came from the Korean Herald. They reported last week that the news was real and uploaded the image below.
As the image shows this wallet will be run on Samsung Pay. But this time it uses blockchain technology and can store cryptocurrency.
Samsung adds crypto wallets for what?
The prime purpose for adding this is to make it easier to pay by crypto. Every day people in their billions paying for everyday items with their mobile wallet.
This is what we need for crypto prices to get to astronomical levels…
Spread the word, excite the herd!